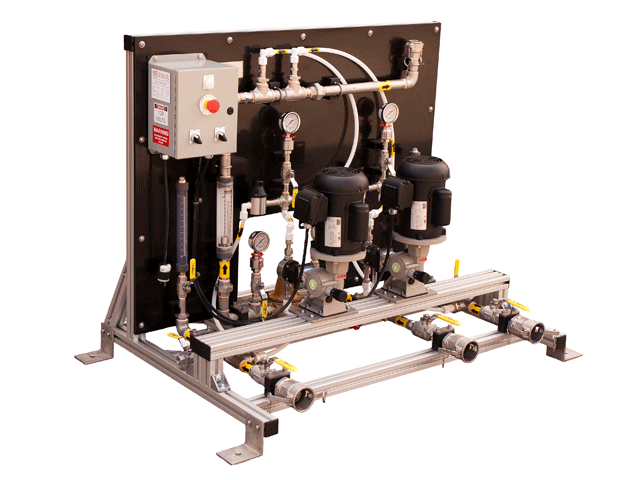 Metering & Dosing Pump Systems
Application Specific Designs
Wide Range of Construction Materials
High Quality Ancillary Components
Wide Range of Control Options
Chemical Metering pumps offer a level of accuracy required in dosing applications used in:
Process steam and cooling operations
Disinfection
Mining reagents
Paper chemicals
Water and wastewater treatment chemicals.
We offer a range of mechanical diaphragm, packed plunger, hydraulic actuated diaphragm metering pump systems that meet your application and process needs. Ancillary components include pressure relief, back pressure and check valves, speed control, stroke positioners, leak detection, flow monitoring and control devices.
Our commitment – The pump selection and system design will meet process needs and include client-specified equipment and components. Our pump systems are thoroughly tested and provided with all test data, documentation, Process & Instrument (P&I), General Arrangement, Electrical Drawings, & Instruction Manuals. We also provide controls, instrumentation, ancillary components and systems, including tanks, mixers & agitators, bag & cartridge filters, as required.
Applications for our custom pump packages include:
Water Treatment Chemicals
Chlorine & Disinfectants
Biocides
Soaps, Detergents, & Defoamers
Boiler & Cooling Water Treatment
Coagulants & Polymers
Acids & Alkaline Materials
Colourants & Dyes
Food Additives
Mining Reage