Chemical Feed & Processing Systems
KGO Group Ltd. is an innovative experienced supplier of a wide range of chemical feed, metering and processing equipment. We offer a range of standard and customized equipment packages, for liquid and bulk solid dry materials and products. We incorporate and provide all the required elements of a complete packaged system, including instrumentation, controls, electrical and mechanical components.
Our equipment supply includes:
KGO Group Ltd.incorporates a "proven quality process system" that yields exceptional results, ensuring our clients that each system performs as required, is delivered on time and on budget.
We explore & document the process needs of our clients, provide process flow information, which is communicated, reviewed and client approved prior to construction.
During construction we continually monitor, review and inspect the progress and fabrication of all systems and ensure that all the components meet the quality standards required. We continually update and inform our clients of timelines and design issues that may occur; communication, review and input from our clients are very important parts of the success of any equipment project.
A comprehensive and detailed, inspection and testing procedure provides peace of mind assurance that all KGO systems require minimal start up assistance and support. Our documentation, instruction, operation & maintenance manuals are of the highest quality, and come complete with all the required parameter, QA and performance test reports.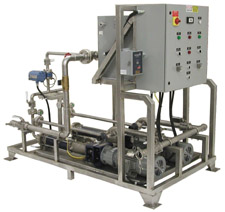 KGO Group Ltd. fully supports and provides field & start up assistance for all equipment we supply; we make ourselves available to support all our clients at all times.
Call us for additional systems information, or with any questions you have regarding any of the equipment packages we offer.