[ezcol_1half]
Problem
Indian Paper mills were facing difficulties in conveying 12% consistency of paper pulp. The production was getting hampered due to the frequent breakdown of pumps and not able to deliver flow due to the variation of discharge pressure.
The mills were using series of medium consistency centrifugal pumps for conveying the pulp. Since the pulp contains relatively large volume of air, inspite of inducer used at the suction and vacuum system in place, these centrifugal pumps were not able to
cope up with the changing pulp consistency ranging from 9% to 12% bulk density. This resulted in the variation of pressure drop in the pipeline and drop in the pump efficiency.
Solution
The customer approached ROTO PUMPS for the solution.
Our R&D team developed a progressive cavity pump with a customized oversize hopper and augur arrangement particularly built for handling the difficult task of conveying medium consistency pulp suspensions up to 18% bulk density.
Roto Pumps WM series pumps can handle the pulp without any use of the auxiliary vacuum system thus reducing the power consumption and maintenance. These pumps come with a variable-speed drive that can optimize to meet the desired flow rate. The high efficiency and ease of operation makes this technology self sufficient.
[/ezcol_1half] [ezcol_1half_end]
Benefits of Roto Medium consistency pulp pump
Variable consistencies ranging from 6% to 25% bulk density during the process can be handled.
Variable pressure handling capabilities.
No auxiliary vacuum system required, can handle air with the pulp.
Low maintenance cost and easy to maintain.
Power saving up to 50%.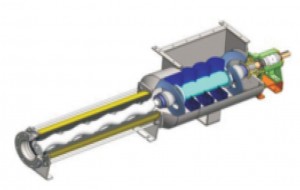 WM Series Pump
Flow Rate: 120 M /hr.
Discharge Pressure: 24 Bar
The pumps are available in bare shaft and closed-coupled configuration. The hopper size can be customized to suit the customer chute requirement. Material options available as per application requirement.
[/ezcol_1half_end]