CIM 2015 | Palais des Congrès | Montreal Quebec | May 10-12, 2015
Trade shows are still an important part of doing business in Canada and North America, contrary to what some say and believe. It's about the attitude you carry, are you there because you want to be or do you believe in the old adage "you are conspicuous by your absence"? For me it is one of the best forms of marketing available, you get to meet, face to face, existing clients, suppliers, and potential new clients, all in a relaxed non-confrontational atmosphere, what better way to conduct business.
Friday May 8
It's not often that you get to relax and enjoy the lead, and setup of a major trade show, but such was the case for Al Struyk and I for CIM 2015. We enjoyed a very pleasant and stress free drive for Oakville to Montreal, checked into the InterContinental Hotel across from the convention centre and had lots of time to enjoy a very pleasant and eventful evening, walking the streets of a very busy downtown Montreal.
For those of you not familiar with Montreal you will find the outdoor cafés and restaurants to be full of character and ambiance, it's almost impossible to pick a spot that you will not enjoy. The people watching, and the activities going on outside make the stroll all that much more enjoyable, there is something of interest around each corner as you will see with the attached photos.




Saturday May 9
Our morning started out with an early breakfast at the hotel and a quick stroll through Old Montreal, looking for items we needed for the show. Again, never a dull moment in Montreal, just a few steps away from the hotel we encounter a very colorful and fun filled event as a group of people from India were having a small parade that was full of music and dance, not sure what the celebration was about but these folks had more energy for a 9 am curtain call than most of us have at the best part of our day, catch the photos and video.
Back to the convention center we go, joined by our good friend and business associate Steve McDonald.
As with all events comes the non-glamourous part of a trade show the dreaded unpacking and setup of your displays and equipment, first stressing on what goes where, what is the sequence of hanging the display panels, realizing you forgot something or what you ordered and did not see in your booth.
In little over 2 ½ hours we were about finished setting up the booth, locating our equipment demos, labeled the crates for return and were on our way out for lunch and meet up with colleagues and friends.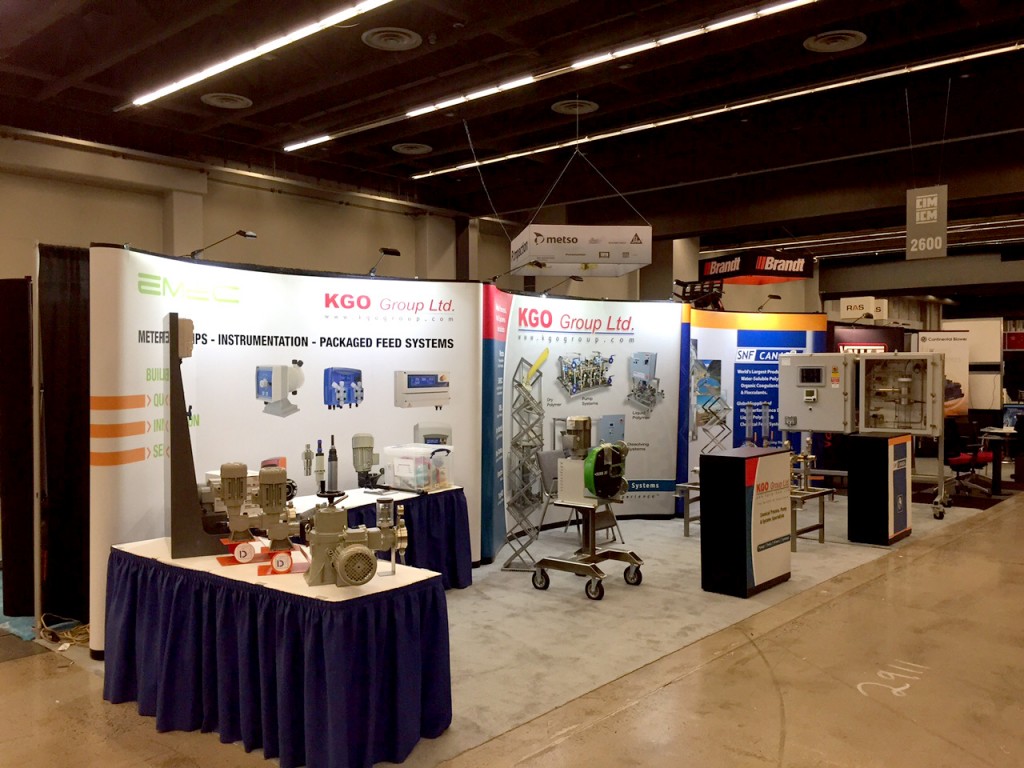 FYI – "When in Montreal during a Canadians play-off Hockey game you don't have much choice but to listen and watch the game, in French and generally at a good volume, this is a hockey town to be sure, being from the Toronto area you kind of get a little envious when your team seems to be many years away from being in a play-off position".
Sunday May 10
We're all set up rested and settled into our booth for the opening of CIM 2015. Tonight is a meet and greet session where some delegates and suppliers get together for food and drink, the event is light and relaxed. For most of us it's putting the final touches on the booth, organizing staff and discussing the next two days of the show, then off to diner.. the perfect choice – Milos on Parc
Monday May 11
We had a good start to the day; all our staff was in early and ready for action. The first couple of hours were a little slow at our end but as the day wore on traffic found its way to our area. We met up with some old friends and business associates, were able to introduce and re-introduce some new and existing products, namely our re-designed FloDose Polymer Dosage and Control System, EMEC and DOSEURO Metering Pumps, Roto Progressive Cavity and VerderFlex Hose Pumps.
In addition to displaying our products we also had the opportunity to do some in-booth training of the mechanical and control operations of our packaged systems, namely pump, polymer and dosage control equipment. Traffic remained steady for the day and some great opportunities present themselves to us for follow up. All in all a successful day!!
Tuesday May 12
Ahhh!! – The last day of the trade show exposition, as is generally the scenario, it takes time for the crowds to pass through the many rows of booths at a show of this size. Today the traffic in our area and at our booth was much better. The chocolates and give-aways were in demand for most of the day.
The one thing I like most about trade shows is the unexpected, someone you haven't seen for a while showing up and meeting by accident, the change in a person's career, what has happened in the personal lives. Then you meet someone you've only done business with over the phone and never met in person (they never look like what you picture them to be). Then you get introduced to someone you have heard about, such as the case of Mr. Florent Baril, the 83 year old father of Serge, who owns and operates a very successful engineering business and walks around the show like a 40 something young man. What a great attitude he has towards family, life and career, so much energy he makes you think if you're not working at this age you're wasting away, a real gem.
Overall, we generated quality leads, re-established relationships with colleagues we haven't worked with for some time and had genuine interest in some of our newly displayed products.
Special thanks to Al Struyk, Serge Baril, Steve McDonald and Kim O'Donnell, for helping us dismantle the booth and ready the equipment for shipment back to our plant. Thanks also to Marco Giuliani, Scott Wagner and Remi Kosciolek for booth and technical support during the show.
We booked CIM Vancouver 2016!
The Vancouver Convention Center
May 1 – 3 – Booth # 405
We look forward to seeing you again in 2016!