A&G Series Rotary Lobe Pumps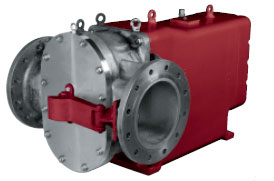 User Benefits:
High efficiency
Low energy consumption
Robust construction
Smooth flow
Reversible operation
Ability to pump abrasive media
Ability to pump large solids
Cost effective, e

asy maintenance
The Series A&G pump range has five pump head displacements ranging from 550 litres/rev to 2270 litres/rev.
Flow rates up to 680 m3/h. Differential pressures up to 10 bar. Port sizes from 150 mm to 300 mm diameter.
SSP Series A and Series G rotary lobe pumps are designed for high volume fluid transfer duties and are amongst the world's largest pumps of this type. Both series are engineered to order, customised to suit application requirements throughout Chemical, Food, Pharmaceutical and Waste Water Treatment processes. From initial enquiry, the specification of the pump will be engineered to ensure the most appropriate pump is provided to meet application requirements. Series A pumps, manufactured from stainless steel, can handle from low to high viscosity pumped media. Ideal for delicate media and where organic solids in suspension, creams, froths, gels, emulsions and mixtures are to pumped. Series G pumps, manufactured from ductile iron, operate within general industrial and waste water treatment processes providing a good tolerance of suspended solids including fibrous matter. Series G pumps have proven ability in handling a full range of sludge thickness with rag and grit included.
[table id=16 /]
* Higher pressures attainable – please refer to SSP Pumps