Dry Polymer Wetting & Dissolving Systems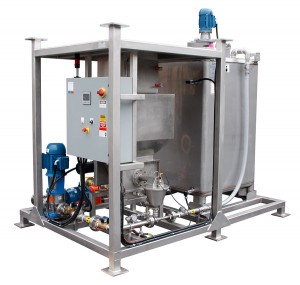 KGO Group Ltd., provides quality high performance dry polymer systems capable of hydrating a wide range of water soluble polymers of varying particle sizes and molecular weights in a variety of installations including Mining, Pulp & Paper, Water & Waste Water, and Major Industrial applications and shipped to locations worldwide. Our systems offer superior safety, polymer wetting, robust construction, with minimal maintenance, cleaning and service.
A significant focus on safety has emerged over the years and is a key factor in our designs and construction processes, we have addressed key ergonomic concerns regarding, structural support and safe access to bulk bags, containment of bulk powders, nuisance dust, easy and safe access to all system components.
Our HydraFlex & Typhoon high performance wetting systems provide exceptional control of "fine" dust particles with the use of a non-mechanical pressurized vacuum system that ensures "all" material is drawn through the system and fed to the mix and age tank, "wetting in our HydraFlex & Typhoon systems start when the dry material and water interface" and is not totally dependent on the tank agitator for hydration like many low quality systems. Our unique designs and properly sized components ensure agglomerate free fully wetted polymer, regardless of water temperature and quality.
Dry Polymer System Articles and Brochures