Dry Polymer Wetting & Dissolving Systems
KGO Group Ltd., provides quality high performance dry polymer systems capable of Hydrating a wide range of water soluble polymers of varying particle sizes and molecular weights in a variety of installations including Mining, Pulp & Paper, Water & Waste Water, Major Industrial applications shipped to locations worldwide. Our systems offer superior safety, polymer wetting, robust construction, with minimal maintenance, cleaning and service.
A significant focus on safety has emerged over the years and is a key factor in our designs and construction processes, we have addressed key ergonomic concerns regarding, structural support and safe access to bulk bags, containment of bulk powders, nuisance dust, easy and safe access to all system components.
Our HydraFlex & Typhoon high performance wetting systems provide exceptional control of "fine" dust particles with the use of a non-mechanical pressurized vacuum system that ensures "all" material is drawn through the system and fed to the mix and age tank, "wetting in our HydraFlex & Typhoon systems start when the dry material and water interface" and is not totally dependent on the tank agitator for hydration like many low quality systems. Our unique designs and properly sized components ensure agglomerate free fully wetted polymer, regardless of water temperature and quality.
In our High Capacity system we have prioritized operator safety, starting with access to safely untie bulk bags providing certified bag support structures, locking "L" shaped bag hooks that reduce the stress on improper placement of holding straps and a solid platform on top of the access hatch that fully supports the weight of a full 1000 kg bulk bag of product for enhanced operator safety. Custom monitoring and alarm functions also add to the overall system operation implemented to prevent overflow, spills easy to access and ergonomic components and construction.
Consistent and accurate feeding is critical for industrial and municipal large volume polymer applications. Our system designs include a dual feed and conditioning screw in all our HC Series systems TripKO volumetric feeders. Hopers also include a safety screen, a vibrator pad (vibrator optional) hermetically sealed knife gate isolation valve, and access hatch, with viewing window and a heavy duty locking mechanism.
HydraFlex HC Series
High Capacity Dry Polymer Systems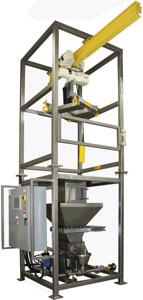 Model HC 200
Utilities
| | |
| --- | --- |
| Inlet Water Flow | 600 LPM – 150 GPM |
| Inlet Water Pressure (required) | 80 PSI minimum |
| Power Requirement | 575 - 460 VAC |
| Polymer Consumption | 1050 Kg/day @ .5% concentration |
| w/ Alternating Tank Configuration * AT | 1500 kg/d Yield |
| PLC Standard | Allen Bradley MicroLogix |
| HMI Standard | Allen Bradley PanelView Plus |
| Tank Sizing | See Chart |
Tank Sizing w/Standard Transfer Pump
Polymer Usage/Day

Suggested Mix Tank Size (Working Volume)

Std. Transfer Rate

KG's

Lbs.

Liters

Gallons

L/Min

GPM

325

716

5m³

1320

600

158

550

1212

10m³

2640

600

158

750

1653

15m³

3962

600

158

900

1984

20m³

5283

600

158

1000

2204

25m³

6604

600

158

1050

2314

30m³

7925

600

158

1250

2755

*25m³/AT

6604

1500

*30m³/AT

7925
Model HC 100
Utilities

| | |
| --- | --- |
| Inlet Water Flow | 375 LPM – 100 GPM |
| Inlet Water Pressure (required) | 80 PSI minimum |
| Power Requirement | 575 - 460 VAC |
| Polymer Capacity | 700 Kg/day @ .5% concentration |
| w/ Alternating Tank Configuration | 1200 kg/d Yield |
| PLC Standard | Allen Bradley MicroLogix |
| HMI Standard | Allen Bradley PanelView Plus |
| Tank Sizing | See Chart |
Tank Sizing w/Standard Transfer Pump

Polymer Usage/Day

Suggested Mix Tank Size (Working Volume)

Std. Transfer Rate

KG's

Lbs.

Liters

Gallons

L/Min

GPM

150

330

5m³

1320

375

100

300

661

10m³

2640

375

100

500

1102

15m³

3962

375

100

600

1320

20m³

5283

375

100

700

1545

25m³

6604

375

100

1000

2204

*25m³/AT

6604

1200

2645

*30m³/AT

7925
HC 100 & 200 Specifications & Options
Standard Components:
Structural 304 SS Construction
Piping 316 SS Welded & Flanged Construction
SS Hopper Assembly w/Level Sensor
Double latch access door w/viewing glass
Removable Safety Screen
TripKO Volumetric Feeder w/conditioner Feeder w/VFD speed control
Knife Gate hopper isolation Valve
Multi-Stage Booster Pump
SS HydraFlex vacuum wetting system w/overflow protection
Magnetic Flow Meter – Source Water
All required check valves 316 SS
Electrical Certification UL/CSA/CE
Optional Components:
Piping 316 SS B31.3 Construction
Electric Hoist & Trolley
Bulk Bag Conditioning
Client specified instruments & components
Lose of Weight process feed systems
Optional Tank Construction & Configuration