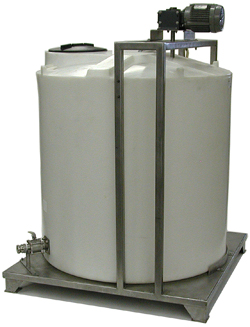 KGO Group can provide a Tank & Mixer Package for almost any mixing or blending application. Choose from a standard tank & mixer package, or have KGO Group design one based on your application.
Tanks are available in polyethylene, stainless steel and fiberglass reinforced plastic (FRP). Mixers are available in a full range of construction materials, impeller types and mounting configurations. A full range of accessories, options & ancillary components are also available.
KGO Group Tank & Mixer Packages can be stand-alone, skid mounted with any required equipment, or drop in to your existing system for most mixing, blending, solids suspension or dissolving applications.
[callout style="cherry" font_size="13px"]
Contact KGO Group today
for more information on Tank & Mixer Packages.
[/callout]