Brine – The Ideal Salt Handling Method

Saturated sodium chloride brine, continuously produced in an automated FRP bulk storage brinemaker, is ideal for distributing salt in industrial processes. A consistent NaCl brine concentration over a wide temperature range permits accurate volume metering. In-plant pumping of brine through plastic pipes almost totally eliminates corrosion hazards. Brinemaking technique and filtration eliminates undesirable impurities. Most importantly, capital costs for brine systems are 20-30% of those for dry salt storage and conveying systems, with appreciably lower operating costs.
The Bryneer™, Plas-Tanks Industries' own brine system, is the most efficient brine system available today.  The Bryneer™ bulk salt storage and brinemaker is the first brining system that is completely designed and manufactured by a fiberglass reinforced plastic (FRP) fabricator.
With a single source for all brining components you are offered economy and dependability. As a large fabricator of FRP vessels for a variety of applications, Plas-Tanks Industries, Inc., established in 1976, has the capability to customize systems to fit particular requirements for a given installation. Bryneer™ tanks are manufactured to current ASTM standards, using USDA-approved resins and are conditioned to meet food grade sanitary guidelines.  An exclusive Two (2)-Year Warranty backs Plas-Tanks Industries' ISO 9001 quality standards and our 28 years of experience.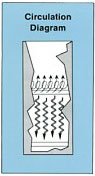 Downflow Brinemaking
The downflow brining principle ensures consistent brine saturation. As influent water rises, higher density brine sinks. Sludge from rock and solar salt is concentrated at the bottom of the Bryneer™ where it can be periodically removed.
Maintenance-Free Service
Plas-Tanks Industries' tough, damage-resistant fiberglass reinforced plastic shell is constructed to withstand many years of brinemaking maintenance-free.
Uniform Distribution


In many commercial brinemakers, inlet water is not distributedevenly. Eventually, this results in the formation of salt pillars in the tank, which can collapse and damage the vessel. This problem is eliminated in the Bryneer™ by use of a schedule 80 PVC ring induction header around the inside circumference of the tank.  The ring is installed at a three-foot height to spray water evenly around the base of the salt mass, resulting in the desirable plug or mass flow.



Hassle-Free Brine Collection
A collector on the bottom of the tank collects brine evenly over the entire surface area of the vessel by infiltration through 4″ ID slotted PVC pipe feeding a center mounted FRP plenum. It filters undissolved salt crystals and insolubles from effluent saturated brine. An outlet pipe draws brine from the plenum through a flanged and gussetted nozzle in the vessel wall. When fine vacuum

granulated salt is used, the collectors are covered with a quartz rock filter bed toensure that fine salt crystals do not pass through
the slotted PVC pipe. Replacement of such a filter bed should never be necessary due to the insignificant insolubles content of vacuum salt.

Rapid Loading without the Dust
A pneumatic loading and air venting system is designed for rapid loading, easy maintenance and minimum dust emissions. The 4″ ID fill pipe is fabricated from 304 stainless steel and mounted for center fill using a long radius turn to minimize particle attrition and dust. The pipe is fitted with an aluminum camlock coupling and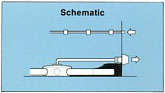 cap that adapts to a P/D truck hose connection. A threaded nipple on the pipe may be fitted with a water hose to inject water during truck unloading to wet the conveyed salt, resulting in minimized dust emission.
Conveying air is exhausted through an 8″ gooseneck vent at thetopof the vessel. A FRP extension mounted to the tank wall, with a salt dust bag atserviceable height, facilitates cleaning. Should the bag become plugged during filling, a 24″ weighted manway on thetop will open to relieve pressure and prevent tank damage.
Easy Clean Out
All of Plas-Tanks' Bryneers are fitted with a 24" diameter side-mounted, leak-proof manway near the base for convenient clean-out access.  This port is used for periodic sludge clean-outs, which are required when rock and solar salt are used.  All collection and outlet internal piping is removable through the manway for cleaning or repair; however, removal of the internal piping is usually not necessary for a clean out.
Effective Liquid Level Control System
The Bryneer incorporates a unique brine level control system to open and close a valve in the water inlet line.
The level control can be set for any desired liquid level.  Normally, a "fully wet" mode of 8' – 9' is desirable for vacuum granulated or solar salt.  For rock salt, a fully wet level may be used to reduce sludge accumulation and clean-out frequency, or a "semi-wet" level of 3' – 4' may be selected.
The digital level control is contained in a corrosion resistant waterproof box.  The unit comes complete with a digital display revealing the brine solution level.  An optional output signal for high-low level alarms capable of sending signals to a PLC (Programmable Logic Controller) is also available from Plas-Tanks.
Optional Thermal Retention System
Outside installations exposed to long periods of freezing temperatures below 30F require exterior insulation for the lower six feet of the vessels to maintain functional brining operation and prevent expansion damage to internal pipes and other components.
For ultimate protection and maximum brining efficiency, additional Plasta-Therm heating elements sealed in the side wall bottom of the vessel, when combined with the exterior insulation will maintain brine temperatures at near 60F. When sealed in FRP, Plasta-Therm elements are virtually damage-free.
Enhance your Bryneer experience with these options:
– Plasta-Therm® heating strips coupled with foam insulation – Installed at the base of
a tank to prevent freezing.
– Flow meter and gauges
– Access ladder with cage enclosure and/or roof turn
– Built-in sump for flushing sludge
– Drain nozzle
– Top mounted handrail
– Salt level monitoring system
– Pumps- Level control output signals to your PLC