S Series Rotary Lobe Pumps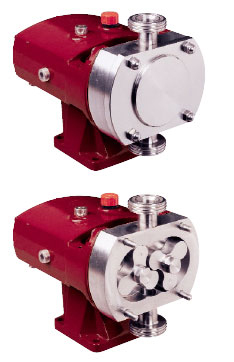 User Benefits:
High efficiency
Low energy consumption
Compact size
Robust construction
Smooth flow
Reversible operation
Low shear pumping
Minimal pumped media agitation
Hygienic design

Easy maintenance
The Series S pump range has twelve pump head displacements ranging from 0.053 litres/rev to 3.53 litres/rev.
Flow rates up to 106 m3/h. Differential pressures up to 20 bar. Port sizes from 25 mm to 150 mm diameter.
SSP Series S stainless steel rotary lobe pumps operate at the heart of process industries worldwide. Series S pumps fulfil a wide range of application requirements throughout Chemical, Food, Pharmaceutical and other related industries. Handling from low to high viscosity pumped media the characteristic smooth, low shear pumping action is ideal for delicate media and where organic solids in suspension, creams, froths, gels, emulsions and mixtures are to be pumped. Series S pumps are suitable for CIP (Cleaning In Place) and conform to USA 3A Sanitary Standard.
[table id=12 /]
* = H or V
H = Horizontal Porting
V = Vertical Porting