M Series Stainless Gear Pumps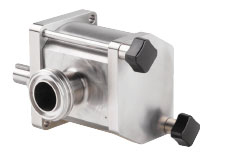 User Benefits:
High efficiency
Low energy consumption
Compact size
Reversible operation
Hygienic design
Self draining
The Series M pump range has three pump head displacements.
Flow rates up to 1500 L/h. Differential pressures up to 7 bar. 25mm port sizes.
SSP Series M stainless steel gear pumps have been designed for low volume fluid transfer duties for application areas such as filling machines, dosing and sampling, throughout Chemical, Food, Pharmaceutical and other related industries. Stainless steel and PTFE components combined in a traditional gear pump construction provide easy cleaning and simple maintenance.
[table id=17 /]