D Series Rotary Lobe Pumps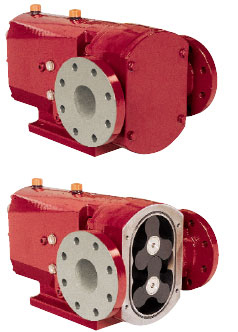 User Benefits:
High efficiency
Low energy consumption
Compact size
Robust construction
Reversible operation
Ability to pump abrasive media
Cost effective, e

asy maintenance
The Series D pump range has nine pump head displacements ranging from 0.79 litres/rev to 6.00 litres/rev.
Flow rates up to 180 m3/h (up to 126 m3/h on sludge). Differential pressures up to 15 bar (up to 5 bar on sludge). Port sizes from 80 mm to 150 mm diameter.
SSP Series D ductile iron rotary lobe pumps fulfil positive transfer duties throughout industry where the use of stainless steel for pumphead components is not essential, within application areas such as Petrochemicals, Chemical, Paper, Paints and Polymers, Petfood, Chocolate and Sugar. Series D pumps also cover a wide span of sludge transfer duties throughout the environmental and industrial waste treatment processes. Transfer duties include Primary, Secondary and Humus Desludging, Thickener, Digester and Filterpress Feed and Tanker loading. Series D pumps may offer lower installation costs compared with other pump technologies. In most cases this saving, when combined with low running and maintenance costs and easy access to the pumphead minimising downtime, results in a reduced lifecycle cost (LCC).
[table id=15 /]
Note: Only Series D pump models rated at 5 bar differential pressure are suitable for sludge pumping.