The LOTUS system produces, doses and controls Chlorine dioxide for water disinfection. Chlorine dioxide is produced from diluted base chemicals: acid-chlorite process by hydrochloric acid (HCl 9%) and sodium chlorite (NaClO2 7.5%).
Chlorine dioxide produced by LOTUS is set to be proprtional to the circulating water flow or based on a set-point – it is then dosed into the water flow. There is no storage of chlorine dioxide hence no chlorine dioxide gas or concentrated solutions exist outside of the process application.
LOTUS is designed so that the reaction to produce chlorine dioxide takes place in a reaction chamber. Multi-function valves on the injection points ensure the security of the reaction chamber.
The base chemicals are stored in tanks and fed into the reaction chamber through suction lances. Integrated level switches automatically stop the pumps when the tanksare empty.
[one_half]FUNCTION
On-site ClO2 production
ClO2 dosing in proportional mode to water meter
ClO2 dosing in proportional mode to ClO2 reading (probe not included)
Flow control input (flow alarm)
Tank level controls (level alarms)
Water meter input
Stand-by input
Real time production data
Pump and SEFL flow sensor monitoring
Permanent data storage with system data log (on Logbook menu)
LOTUS A – reaction at a controlled pressure
LOTUS B – reaction at ambient pressure
[/one_half]
[one_half_last]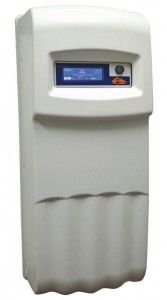 [/one_half_last]
[one_half]
FEATURES
ClO2 concentration: 20 g/L
ClO2 dilution: 2 g/L
ClO2 capacity: see models list below
LOTUS control instrument
HCl (red) and NaClO2 (blue) blind metering pumps
Blind pump for dilution water (grey) (LOTUS A)
3 SEFL flow sensors for security (LOTUS A)
2 SEFL flow sensors for security (LOTUS B / LOTUS D)
MFKT/V multifunction valve as pressure, safety, anti-syphon and bleed
PVC reaction chamber
ASA enclosure
IP65 protection (NEMA4X) of LOTUS control instrument
ENCODER wheel control
Working temperature 0-45 C (32-110 F)
[/one_half]
SYSTEM CAPACITIES
LOTUS A / LOTUS B – Max Capacity 8-40 GPH

LOTUS 8 (A / B)

LOTUS 20 (A / B)

LOTUS 40 (A)
LOTUS D – Max Capacity 80-1000 GPH

LOTUS-D 80

LOTUS-D 160

LOTUS-D 240

LOTUS-D 400

LOTUS-D 600

LOTUS-D 800

LOTUS-D 1000
SUPPLIED ACCESSORIES
| | | |
| --- | --- | --- |
| | | |
| 2 LASP Suction Lances | | |
| | | |
| MKKT/V Multifunction Valve | LINI (optional) | Static Mixer (optional) |