KGO Group Ltd. has many years of experience designing and packaging custom Gear Pump Systems.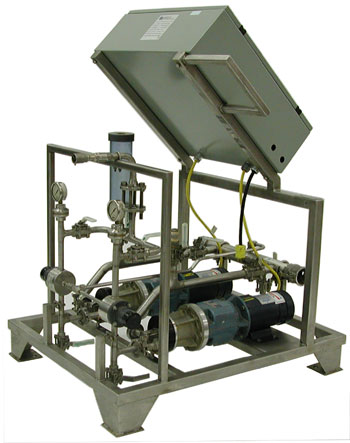 Each Gear Pump System is designed based on your application and process needs. At KGO Group we construct systems using customer specified equipment and components; including flow & monitoring, control & electrical instrumentation, mechanical hardware, and piping specifications.
Typical Gear Pump Systems may include Magnetic, Mass or Gear Flow Meters, Back Pressure, Pressure Relief, Check & Automated Controls Valves, PLC, Operator Interface (HMI), Loop & Process Control Systems, Specialty Pipe & Connections, and Isolated Pressure Gauges & Switches.
KGO Group also provides other Turnkey Systems including; mixing, blending, bag/cartridge filters, and tank systems to supplement any Gear Pump System we supply.
Each KGO Gear Pump System is supplied with accurate Process & Instrument (P&I), General Arrangement, and Certified Electrical Drawings.
Every Gear Pump System is fully tested and operated prior to shipping, all test data and detailed documentation is provided with each system.
We pride ourselves on supplying high-quality fully detailed manuals including receiving, storage, installation; commissioning, control narrative and HMI screen information.
Also included is technical information for each component & device, maintenance, troubleshooting guides and warranties. Manuals are supplied when your system is shipped. Both Hard & Electronic versions are available (client preference) or they can also be downloaded from our FTP Server.
Call us for more information or to receive a detailed proposal.