Sharpe Portable Mixers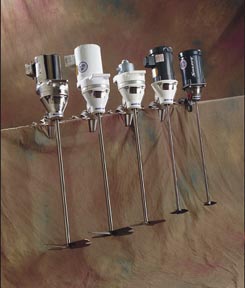 The Sharpe Mixers Portable and F-Series mixer line has been refined and improved over many years to assure that every component has significant advantages over any other mixers on the market. From the durable epoxy finish to the stainless-steel mounting clamp, from the vapor-tight coupling housing to the quality-10 gearing, you can be confident that your Sharpe Mixer will look and operate like new after years of duty.
If you ever do need service, the non-proprietary motors and other parts are immediately available from Sharpe Mixers or your preferred local supplier.
A large inventory of Portable and F-Series models is kept in stock for quick delivery.
Direct-drive heavy-duty Portables and F-Series mixers
Sharpe Mixers direct drive portable mixers provide high-speed mixing for those jobs where greater shearing action is required and for smaller batch mixing. The high speed of the impellers (1750-rpm) create localized high-velocity eddies (high shear) necessary for many applications such as dispersing and dissolving dry powders into a solution.
Gear-Drive heavy-duty Portables and F-Series mixers
Sharpe Mixers gear drive portable mixers are the best choice for larger volume and higher-viscosity applications. The slower speed (350-rpm) provides the high torque necessary to mix higher viscosity fluids and the higher flow required in larger tanks. Large diameter Hyflo 218 impellers produce much more flow per horsepower than other mixers on the market
Clamp Mount
Adjustable positioning and easy removability are two reasons to choose a clamp-mount portable mixer, available in both direct-drive and gear drive models. The heavy-duty stainless steel clamp mounts securely to the tank rim or other support. Mixer adjusts 90 degrees vertically and 360 deg. horizontally for optimal positioning.
Cup-plate mount option allows for more permanent bolted mounting with the same adjustability as the clamp mount.
Plate Mount – Open Tanks
For beam mounting on open tanks, an F-Series plate mount mixer is the best choice. The large steel mounting plate is equipped with rubber vibration mounts to absorb mixer loads and minimize shaft vibration.
Designed for vertical, on-center mounting and angled, offset tank-beam mounting, these heavy-duty mixers incorporate the same design advantages as the portable mixer line. For angled-offset mounting, order the optional 10-degree angle-riser mount.
Flange Mount – Closed Tanks
A wide range of seals and mountings are available for closed tank applications. Both top-entry and side-entry mixer designs are available from stock for quick delivery. Special flange sizes and other mounts (such as sanitary ferrules) are available on a special-order basis.
From vapor lip seals to stuffing glands to elaborate mechanical seal designs, there is likely a Sharpe Mixer specifically designed to meet your requirements.
[callout style="cherry" font_size="13px"]
Contact KGO Group today
to get started in finding a mixing solution to fulfill your needs!
[/callout]