Sharpe Mixers Options & Accessories
Air Lift Mixer Stand for Portable Mixers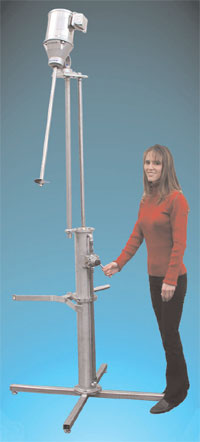 Sharpe Mixers' "ALS-Series" Air-Lift Mixer Stands are a result of uncompromising demands for quality and versitality. When a sturdy, compact, stable and easy-clean stand is required, Sharpe's unique design is clearly the best. The modular construction offers simple and precise adjustment for various applications, and allows for shipment via UPS on most sizes. The air cylinder is enclosed within a sealed column for protection and cleanliness. Long legs bolt onto the flanged column to create a wide and stable base. The ends of the legs are drilled for anchored installation, or can
be supplied with leveling glides or locking caster wheels for excellent mobility. The oversized cylinder ram is mated with a stainless torque arm and polyurethane glide bearing for smooth and stable operation. Chrome plated or solid stainless counterweights are available as well to balance the mixer weight.
Fit and Finish
Different paint systems are offered by SHARPE MIXERS for motors, gear reducers and drives, including enamels, epoxies and stainless steel impregnated paints. Motors, gear reducers and drives fabricated from all Stainless Steel are offered for completely paint-free systems. These options will satisfy any and all requirements for corrosion resistance, cleanability and appearance issues.
Wetted parts, such as shafts and impellers, can be mechanically polished and electro-polished by SHARPE MIXERS to exacting standards when there are concerns about cleanability.
Corrosion Resistant Coatings for shafts and impellers are offered by SHARPE MIXERS. These include a wide variety of elastomers such as natural rubber, Teflon, Kynar, Halar, Fiberglass and many others. A wide range of metallurgy is, of course, available for solving corrosion problems. Information on high alloy construction can be found elsewhere.
Shaft Seals and Accessories
Vapor seals, packed stuffing box seals and mechanical seals are just some of the shaft seals offered by SHARPE MIXERS for use on closed vessels. Many materials and configurations are offered to accommodate a wide variety of temperature, pressure and product compatibility requirements. All the parts and accessories necessary to service these seals are available from SHARPE MIXERS including complete spare seals and rebuild kits. Basic seal accessories such as lubricators, reservoirs, filters and cooling systems are offered. Complete seal control systems such as leakage monitoring are available.
Seal shaft wear sleeves and coatings like chrome steel or ceramic flame spray applications can be ordered with new equipment or added to existing equipment.
Variable Speed Drives
More and more agitators are sold for multi-purpose applications or where products have variable physical characteristics. A variable speed agitator is a very popular option. SHARPE MIXERS offers a wide range of electrical and mechanical variable speed devices. Belt drives and traction drives are still popular mechanical variable speed drives. Air motors and hydraulic motors are also used, primarily on agitators less than 5.0 Hp.
Electronic variable speed is now, more than ever, the most common choice when selecting a variable speed drive. The rapid development of solid-state electronics has made the variable speed agitator a very cost effective choice. The Variable Frequency Drive, which varies the speed of an AC motor, has become very popular. The SCR-Controller is also popular when DC motors are used. SHARPE MIXERS works with the leading suppliers of process controls when offering these variable speed drives.
[callout style="cherry" font_size="13px"]
Contact KGO Group today
to get started in finding a mixing solution to fulfill your needs!
[/callout]