Sharpe Industrial Mixers & Agitators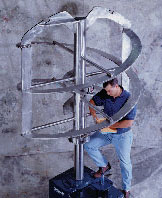 Founded in 1953 (as The Burhans-Sharpe Company), Sharpe Mixers has dedicated over 50 years to liquid mixing equipment. Innovative problem solving and our advancement in mixing technology have gained us recognition as a "preferred choice" agitator manufacturer. Good reputations don't come easily. Ours has been forged through a commitment to uncompromised quality in engineering, manufacturing and service. Each customer has different needs, and our customers come back because of our ability to meet those individual needs.
Experience • Service • Design

Whatever your mixing need may be, Sharpe can help to provide a complete solution. We provide Portable Mixers for hundreds of applications; Large Mixers for heavy industrial use; Food & Pharmaceutical grade mixers specifically built for industries that require wash-down, polished, food grade of pharmaceutical grade equipment.
We will find a custom tailored solution to fit your needs. Through years of engineering we have developed our mixers, materials, mounting configurations, motors and accessories to suit virtually any industrial or municipal application.
We currently serve many industries, including: Food & Beverage; Pharmaceutical; Pulp & Paper; Petroleum; Chemical; Municipal; Waste Treatment; Mining.
[callout style="cherry" font_size="13px"]
Contact KGO Group today
to get started in finding a mixing solution to fulfill your needs!
[/callout]