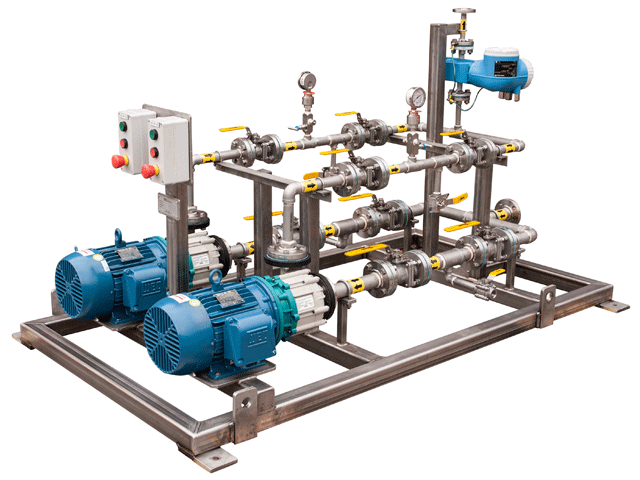 Magnetically Coupled Pumps (Mag Drive) offer an exceptional variety of materials, well suited to pump and transfer a vast range of chemicals. The Mag-Drive design provides a safety level in applications that pose concerns with leakage or corrosive materials. These pumps offer excellent results in applications where crystallization of liquids on seal faces is an issue, eliminating the need for seal flushing.
We offer a range of metallic, non-metallic materials and coatings and sizes suitable for severe chemical duty applications.
Ancillary system components include:
Pressure relief, back pressure and check valves
Speed control
Flow monitoring and control devices
Our commitment – The pump selection and system design will meet process needs and include client-specified equipment and components.
Our pump systems are thoroughly tested and provided with all test data, documentation, Process & Instrument (P&I), General Arrangement, Electrical Drawings, & Instruction Manuals.
We also provide controls, instrumentation, ancillary components and systems, including tanks, mixers & agitators, bag & cartridge filters, as required.
Call us for more information or to receive a detailed proposal.
Need Help?
Contact our product specialists.